Snapshot: Overview of the mineral resources of Hawai'i.
---
Topics covered on this page: Overview; Resources.
Credits: Most of the text of this page is derived from "Mineral resources of the western US" by David Gillam, Alexandra Moore, and Gary Lewis, chapter 5 in The Teacher-Friendly Guide to the Earth Science of the Western US, edited by Mark D. Lucas, Robert M. Ross, and Andrielle N. Swaby (published in 2014 by the Paleontological Research Institution). The book was adapted for the web by Elizabeth J. Hermsen and Jonathan R. Hendricks in 2021–2022. Changes include formatting and revisions to the text and images. Credits for individual images are given in figure captions.
Updates: Page last updated June 13, 2022.
Image above: The setting sun at a beach near Kona International Airport, Hawai'i. Photograph by Jonathan R. Hendricks.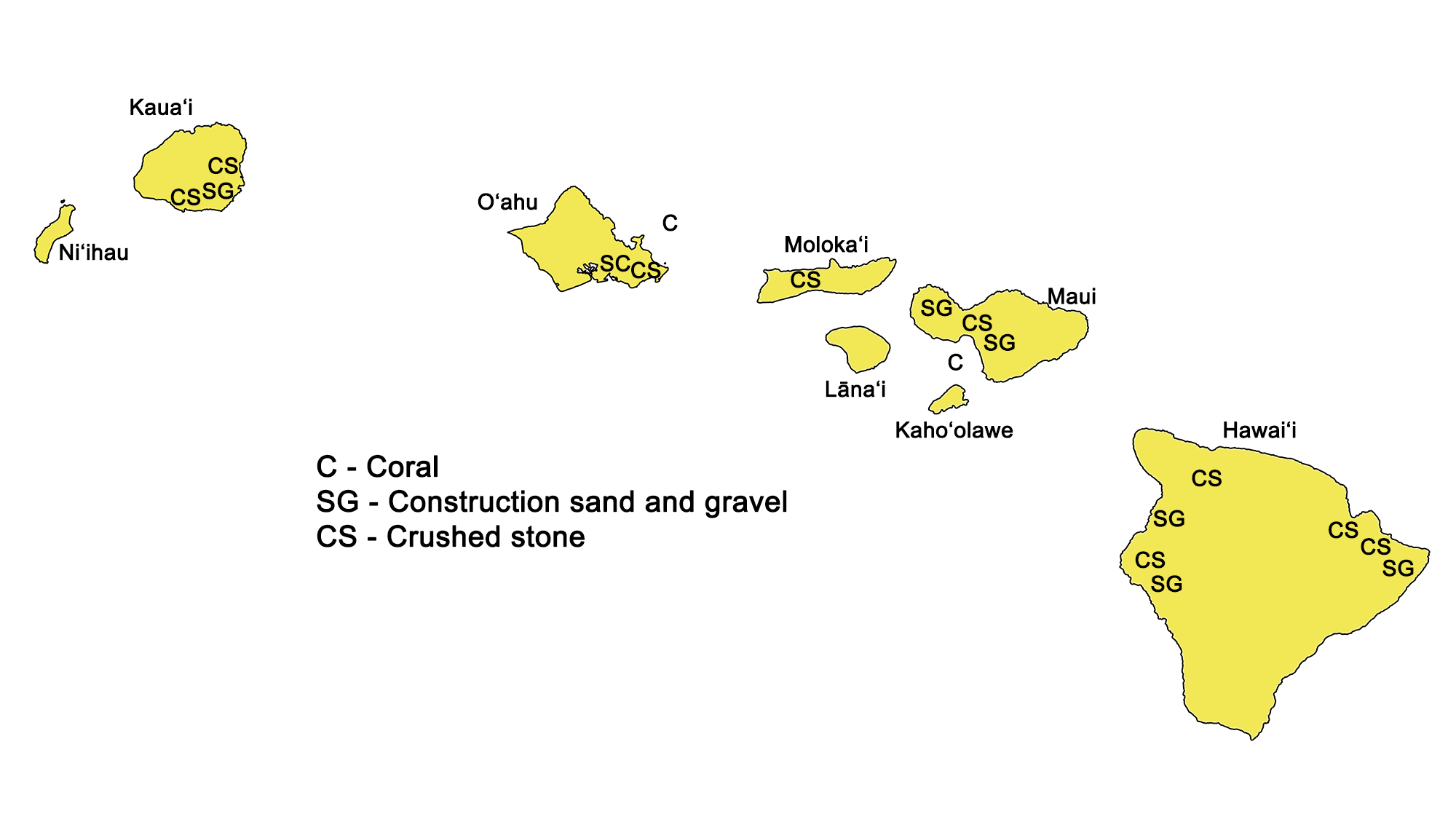 Overview
The uniform geology of the Hawaiian Islands does not produce the variety of mineral resources seen in many other parts of the world.
However, human development has spurred demand for building materials, which, in turn, has driven the development of basalt and limestone resources. In ancient times, Hawaiians used dense basalt for tools and implements. Evidence of quarry sites once used for these purposes can be found throughout the islands. The Hawaiians also used basalt rocks for building hut bases and ceremonial walls.
---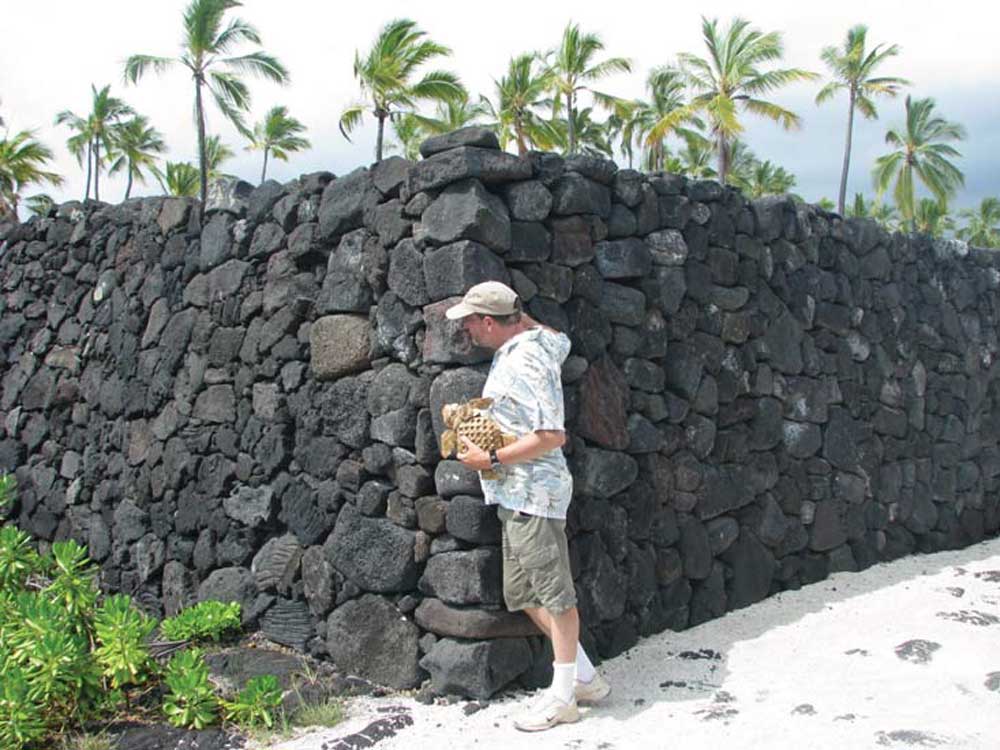 Impressive ancient dry stone construction at Pu'uhonua O Hōnaunau National Historical Park, Hawai'i Island. Photograph by Jen Lewis.
---
The arrival of Europeans and the subsequent development of the Hawaiian Islands led to an expansion of the construction industry, ultimately requiring more materials. More recently, some companies have been working to develop deposits of extremely weathered soils for their aluminum potential.
The U.S. Geological Survey divides the current utilized mineral resources of Hawai'i into three categories: crushed stone, construction sand/gravel, and gems.
Crushed stone is Hawai'i's largest mineral resource, making up over 85% of the state's mineral production resources.
---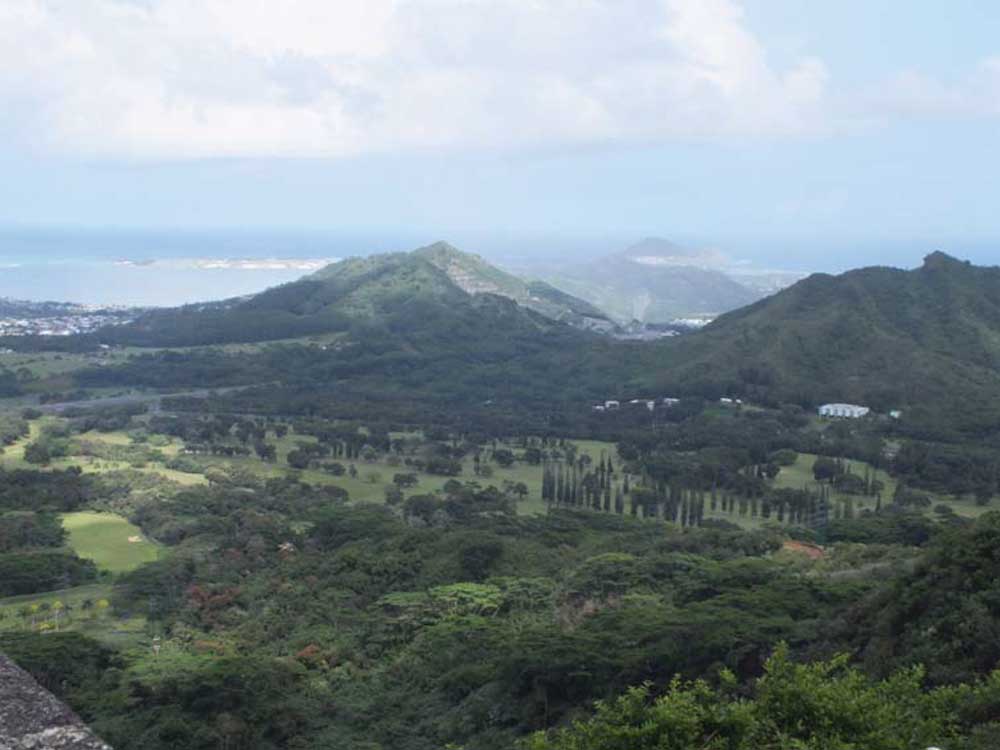 Crushed stone quarry nestled in the hills of O'ahu. Photograph by Fiona Lewis.
---
Crushed basalt is used for a variety of purposes in the construction industry, such as in road bases and as an aggregate in concrete, drainage, and stone retaining walls. Sand made of cinder from cinder cones is also sought after as a landscaping material. Limestone from emerged Pleistocene-age reefs, and the coastal carbonate sand dunes that fringe O'ahu and older Hawaiian islands, has been used to make cement products.
The "gems" mined in Hawai'i are limited to black and precious corals. Approximately $150,000 a year of this material is taken from the waters off the coasts of O'ahu and Maui to be used for jewelry production.
---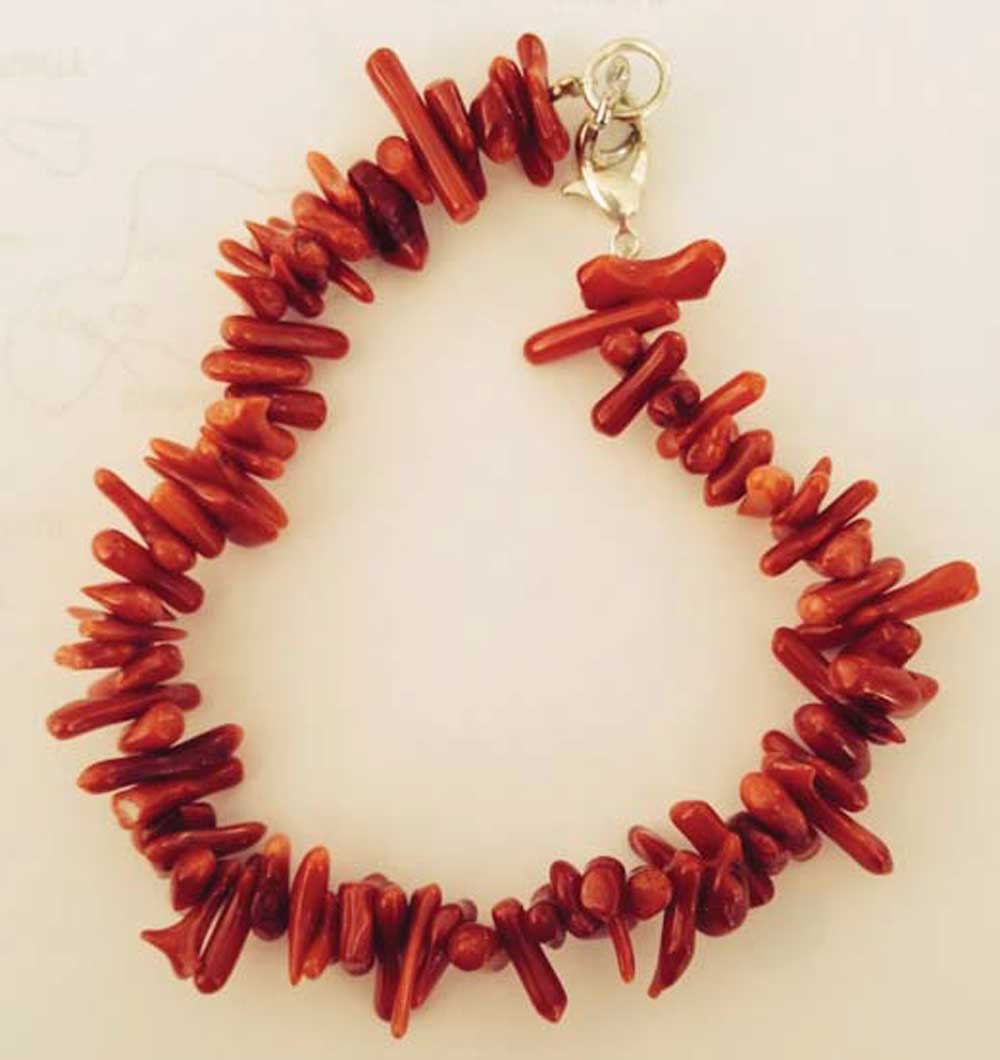 Coral bracelet. Photograph by Gary Lewis.
---
It is often thought that the olivine (peridot) sold in stores around the islands is sourced from the local rocks, but collecting and selling olivine is considered disrespectful in traditional Hawaiian custom. It is therefore illegal to extract it from most sites, and the olivine sold in Hawai'i is actually sourced from locations outside the islands.