Geologic Map of Missouri
---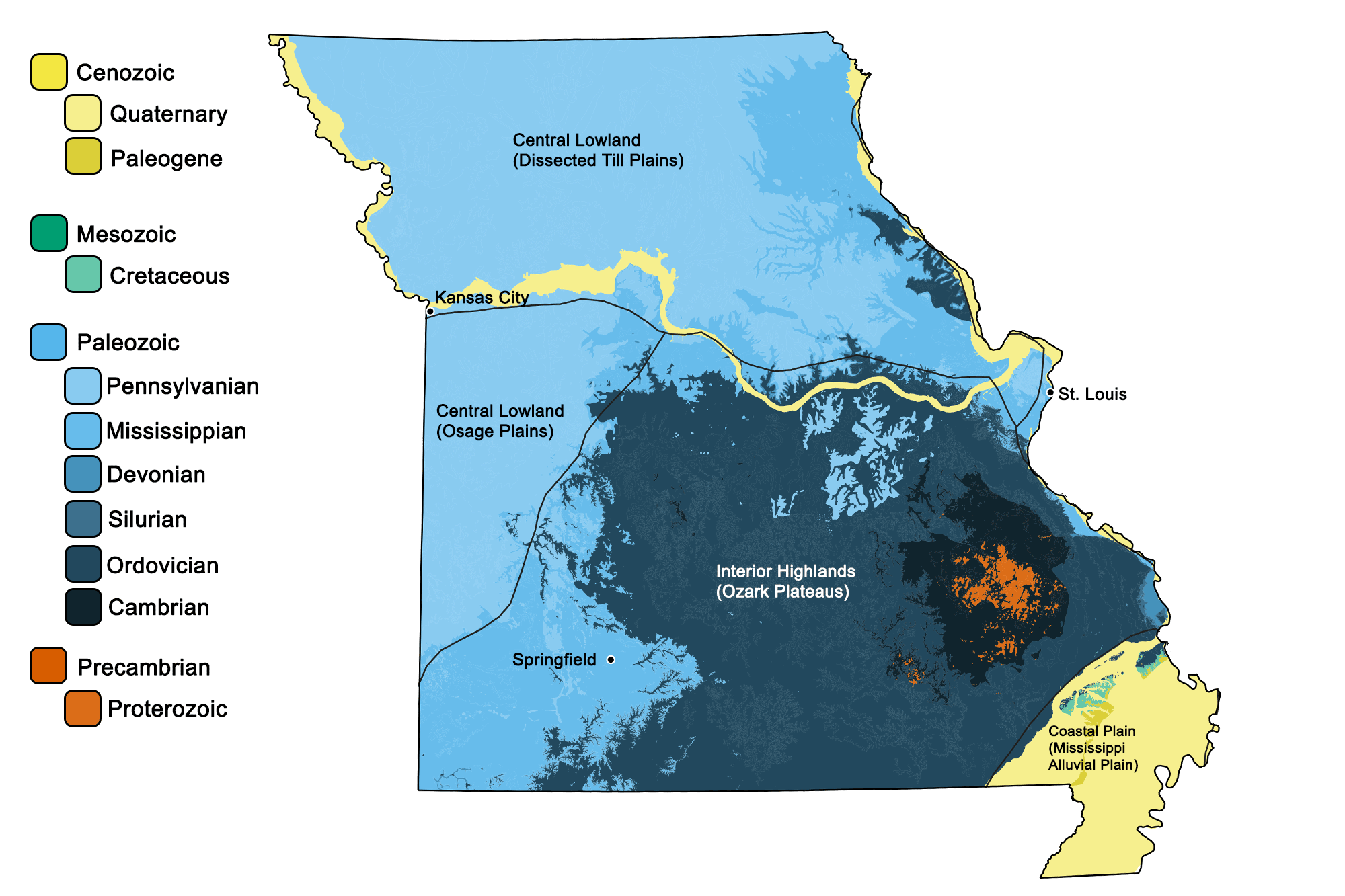 Missouri State Fossil: Crinoid
The state fossil of Missouri is the Pennsylvanian crinoid Delocrinus missouriensis.
---
Learn more about crinoids
---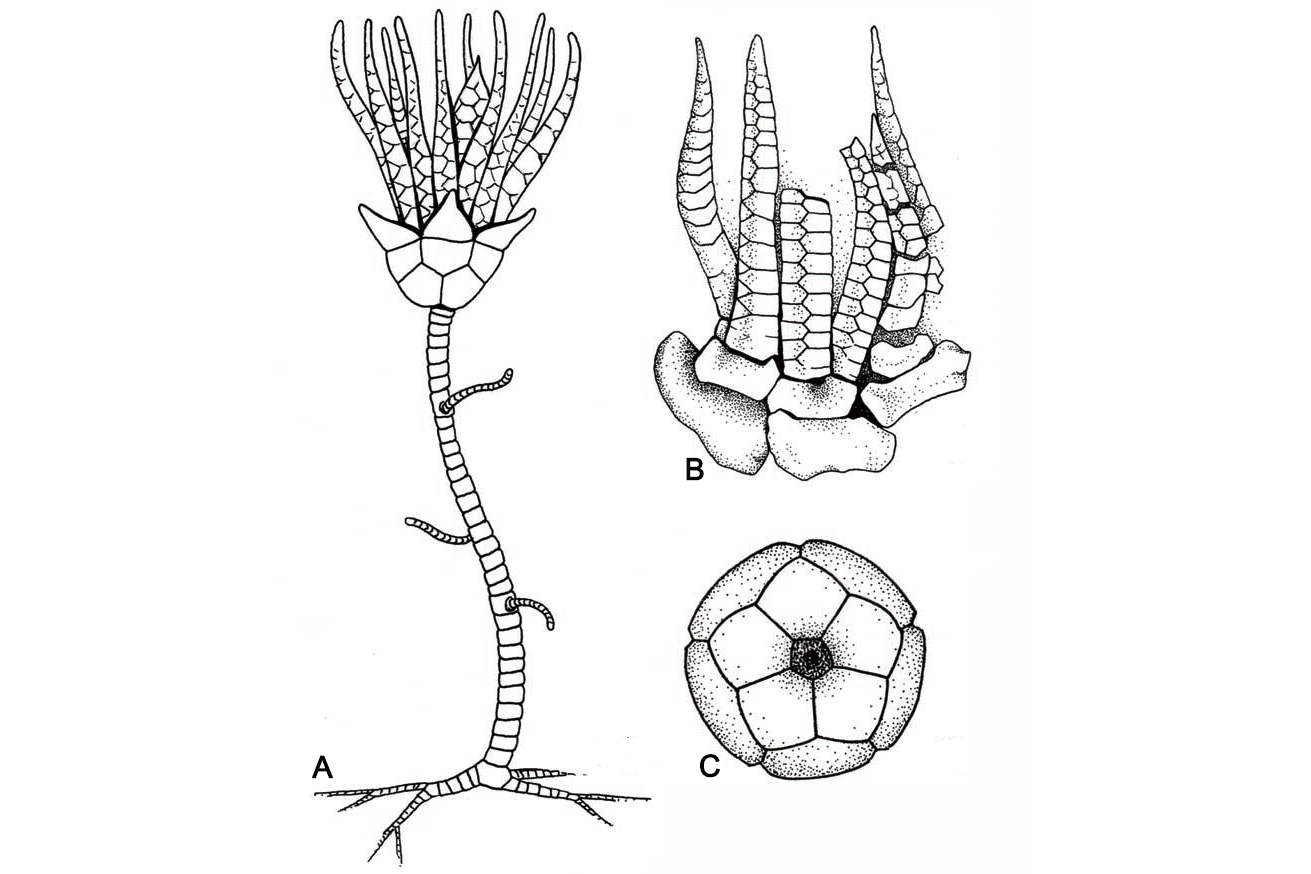 Crinoid, Delocrinus missouriensis. A, Restoration of the entire animal, attached to the sea floor; about 30 centimeters (1 foot) tall. B, Specimen of the crown (calyx) with arms; about 5 centimeters (2 inches) tall. C, Bottom view of the cup portion of the calyx; about 2 centimeters (0.8 inches) in diameter.
Missouri State Rock: Mozarkite
This colorful form of chert consists of silica and chalcedony, and is found in the Ordovician deposits of west-central Missouri. Its name is a portmanteau of Missouri (mo), Ozarks (zark), and the suffix –ite, meaning "rock."
---
3D model of the form of chert called mozarkite. Model by the Missouri State Department of Geography, Geology and Planning (Sketchfab).
Missouri State Mineral: Galena
Missouri is nicknamed "the Lead State" due to the prevalence of this shiny cubic mineral, the natural form of lead. Thanks to rich deposits of galena, Missouri is the largest producer of lead in the United States.
---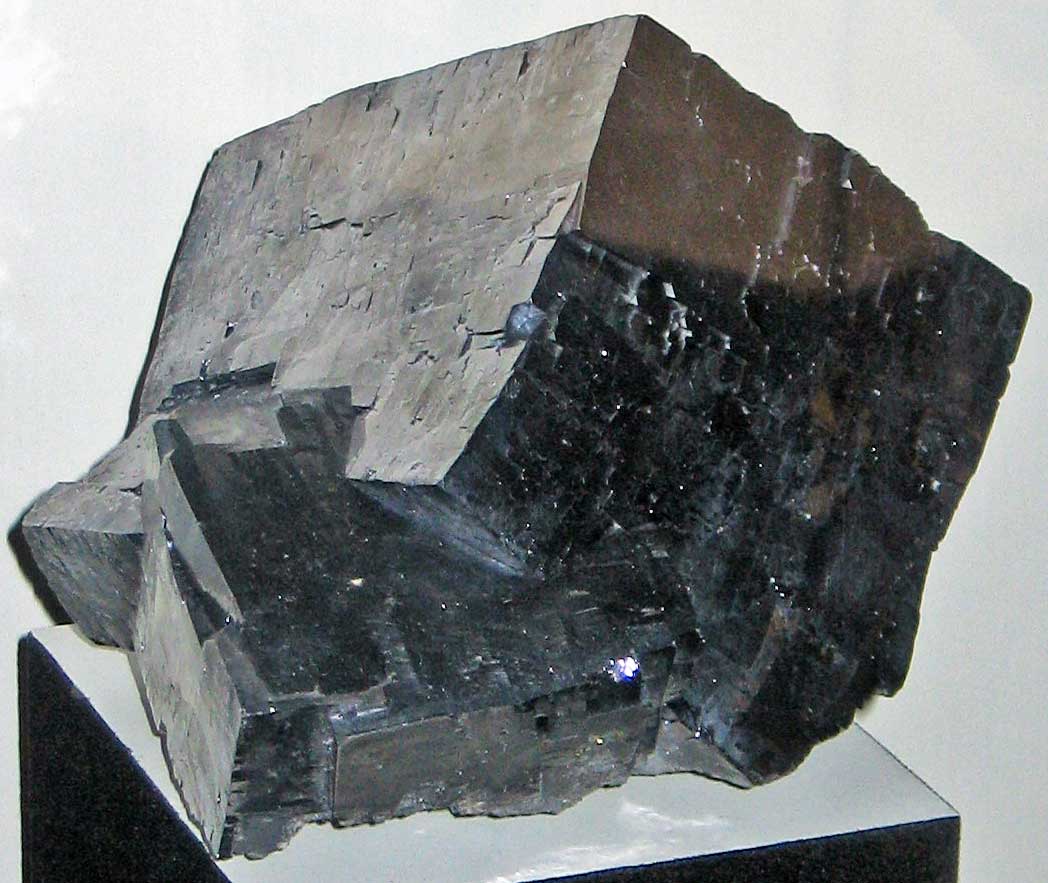 Missouri State Gem: None
Missouri does not have an official state gem. What do you think it should be? Answer in the comments below!
Missouri's Highest and Lowest Elevations
---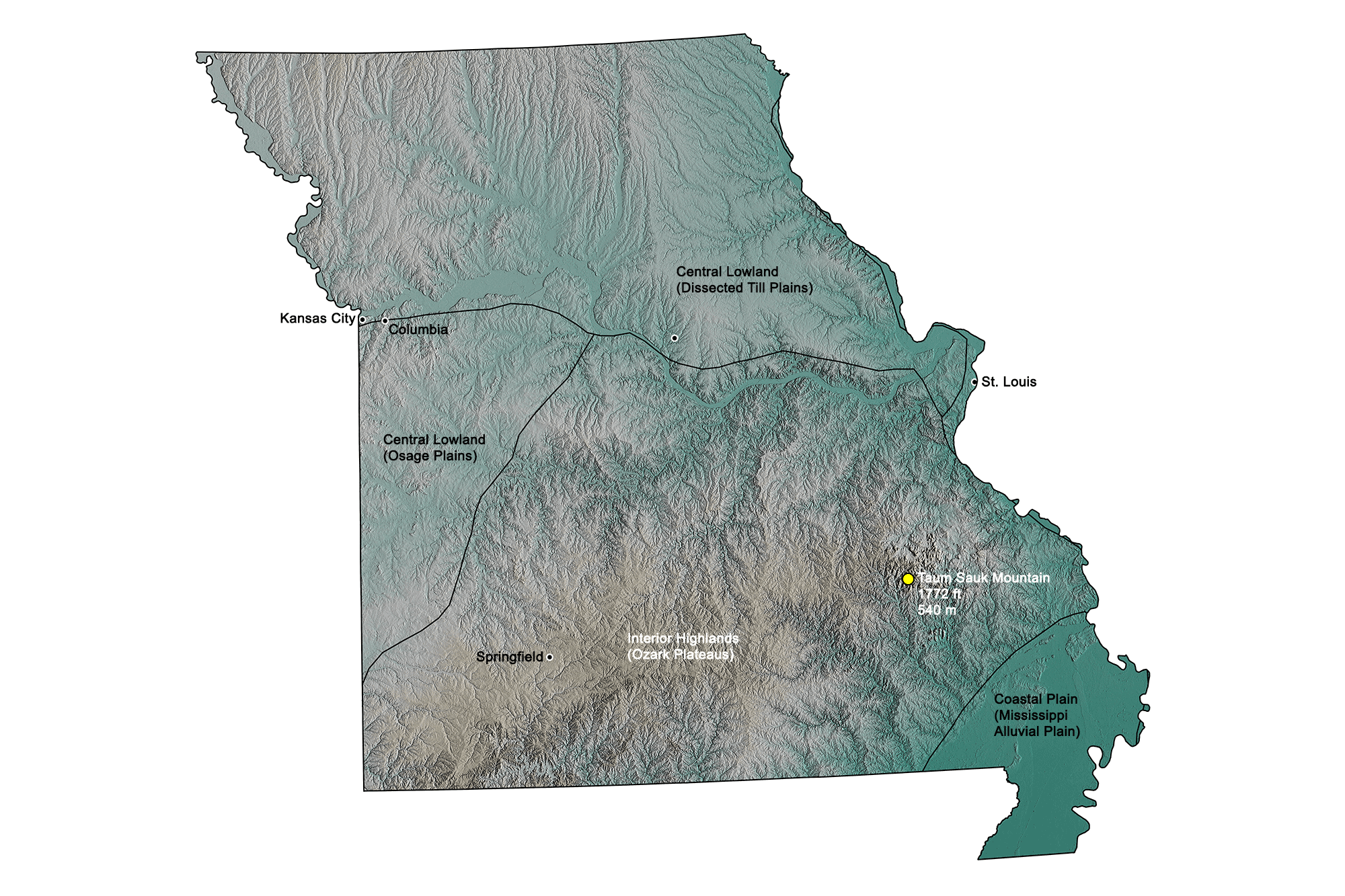 ---
Highest Elevation: Taum Sauk Mountain
Taum Sauk Mountain is Missouri's highest point. Although it stands just 540 meters (1772 feet) above sea level, this mountain is part of the ancient St. Francois Mountains and is several times older than the Appalachians. Taum Sauk and the surrounding mountains are among the only landforms in the U.S. to have never been submerged in prehistoric seas.
---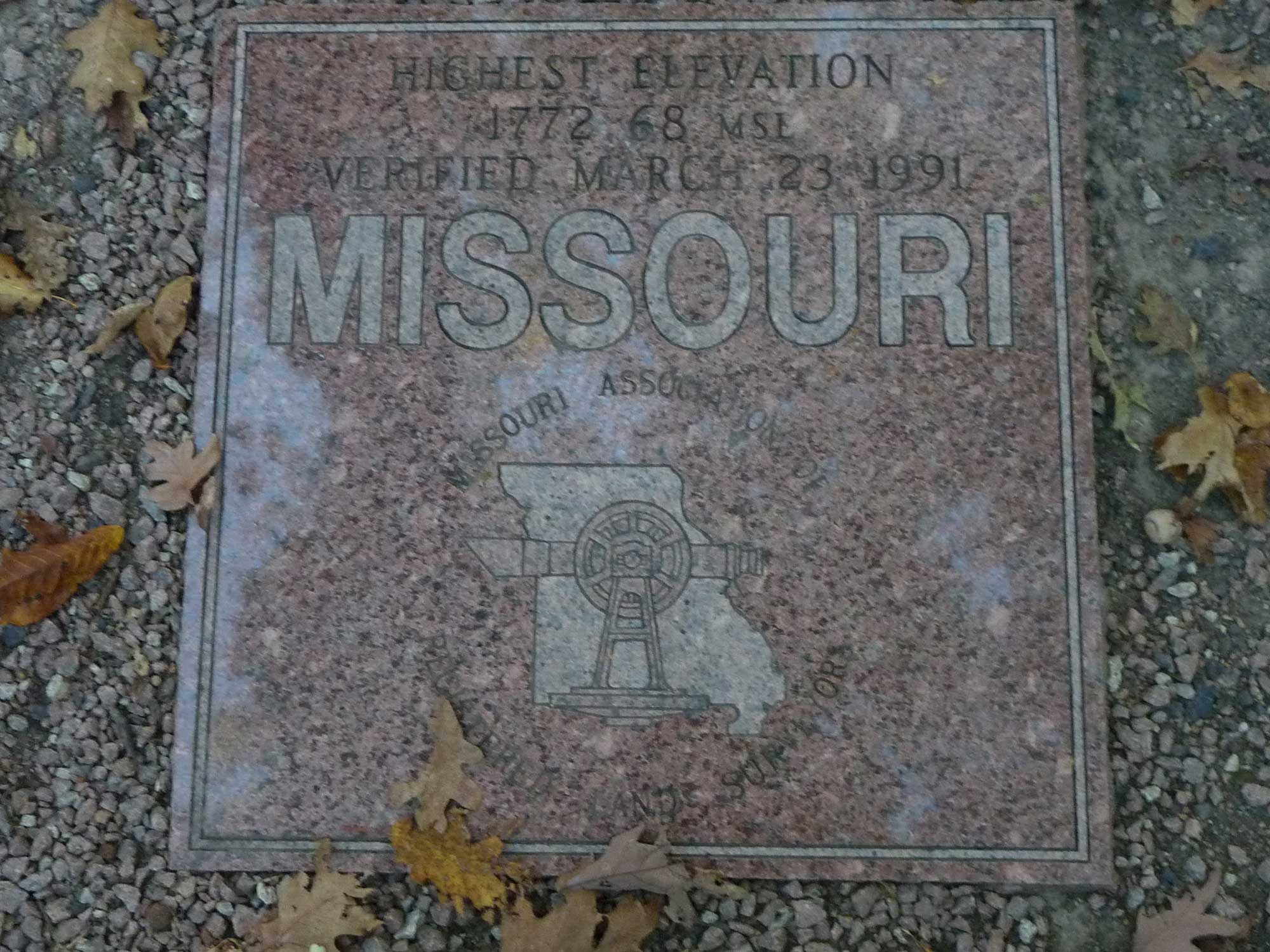 ---
Lowest Elevation: Saint Francis River
Missouri's lowest point, at 70 meters (230 feet), is located where the Saint Francis River borders Arkansas.
Places to Visit
---
Onondaga Cave State Park
Leasburg, Missouri.
---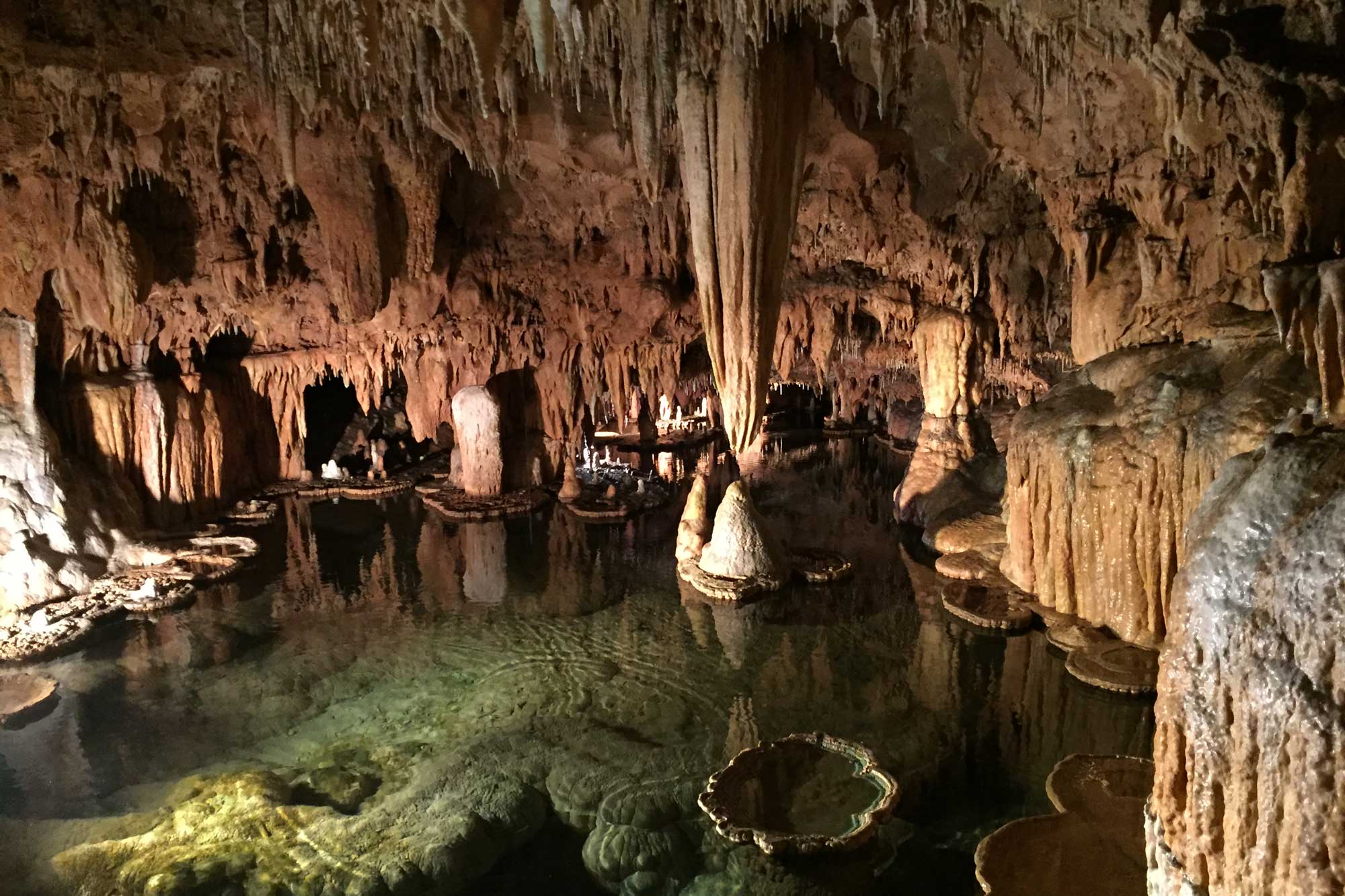 A cavern inside of Onondaga Cave State Park, Missouri. Photograph by Jonathan R. Hendricks.
---
Missouri Institute of Natural Science
Springfield, Missouri.
---
---
Ed Clark Museum of Missouri Geology
Rolla, Missouri.
---
---
Missouri State Museum
Jefferson City, Missouri.
---