Chapter Contents
Image above: Marylin and Carolyn Loomis in the 1930s, from Haas family collection (used with permission)
Teaching about climate change can be horribly depressing work. It seems as though we are marching headlong into hellish times, and are not sufficiently rising to the challenge. This, to some degree, is the natural state of things. We have always lived in horrible times, if you choose to look at things that way. We've also always lived in marvelous times. Sometimes we can see that too, but reminders are helpful. When the situation becomes dire, as seems to be happening now, we do have a history of rising to meet the ominous challenges. It is my hope we are in the process of doing that now.
To consider the concept of wonderful horrible times, I'll quickly step through five generations of my own family history. My great-grandfather, Adgate Loomis, was born December 4, 1843, in Lebanon, Connecticut and my great-grandmother, his wife, Melissa "Minnie" Bridget Hardy, was born Dec. 13, 1847 in Hoskinsville, Ohio. Slavery was still firmly entrenched in the American South, and Adgate and Minnie's brother Lucius both fought for the Union Army. Lucius died at the Andersonville Prison Camp. Clearly, these were horrible times.
---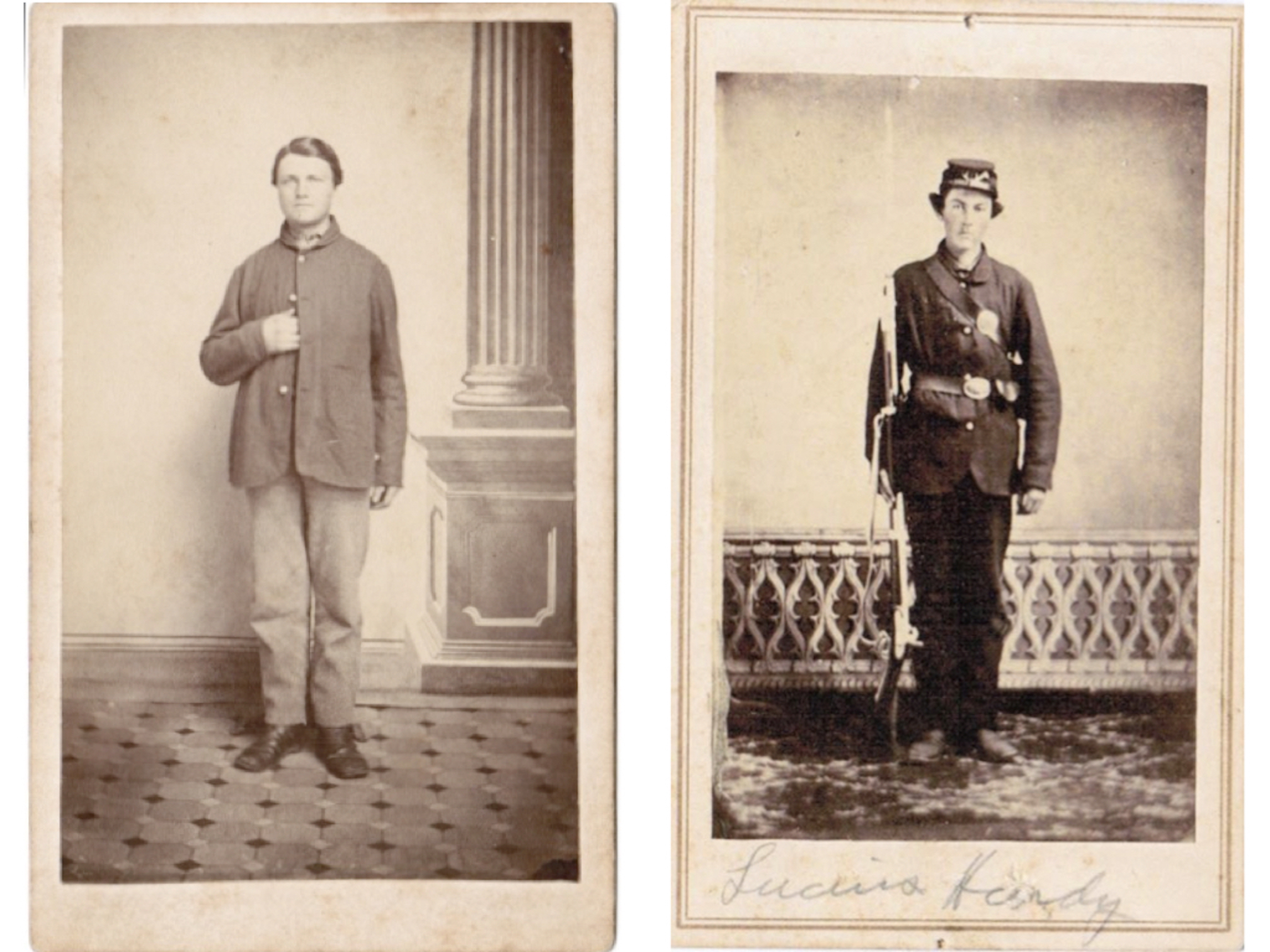 Adgate Loomis and his brother-in-law Lucius Hardy, in their Union Army uniforms. Adgate is the author's great grandfather. Photos from Haas family collection (used with permission)
---
The Civil War ended, and my great-grandfather marched in front of President Lincoln. Horrible times were not over, but the abomination that was slavery did come to an end. Adgate and Minnie married in 1871, and honeymooned in Niagara Falls. They went on to have five daughters and four sons, and were married for more than 50 years. The brood included twins - Ruth and Ralph, born in 1891. Ralph was my grandfather. I don't know if his life was wonderful, but it did have some wonderful outcomes.
---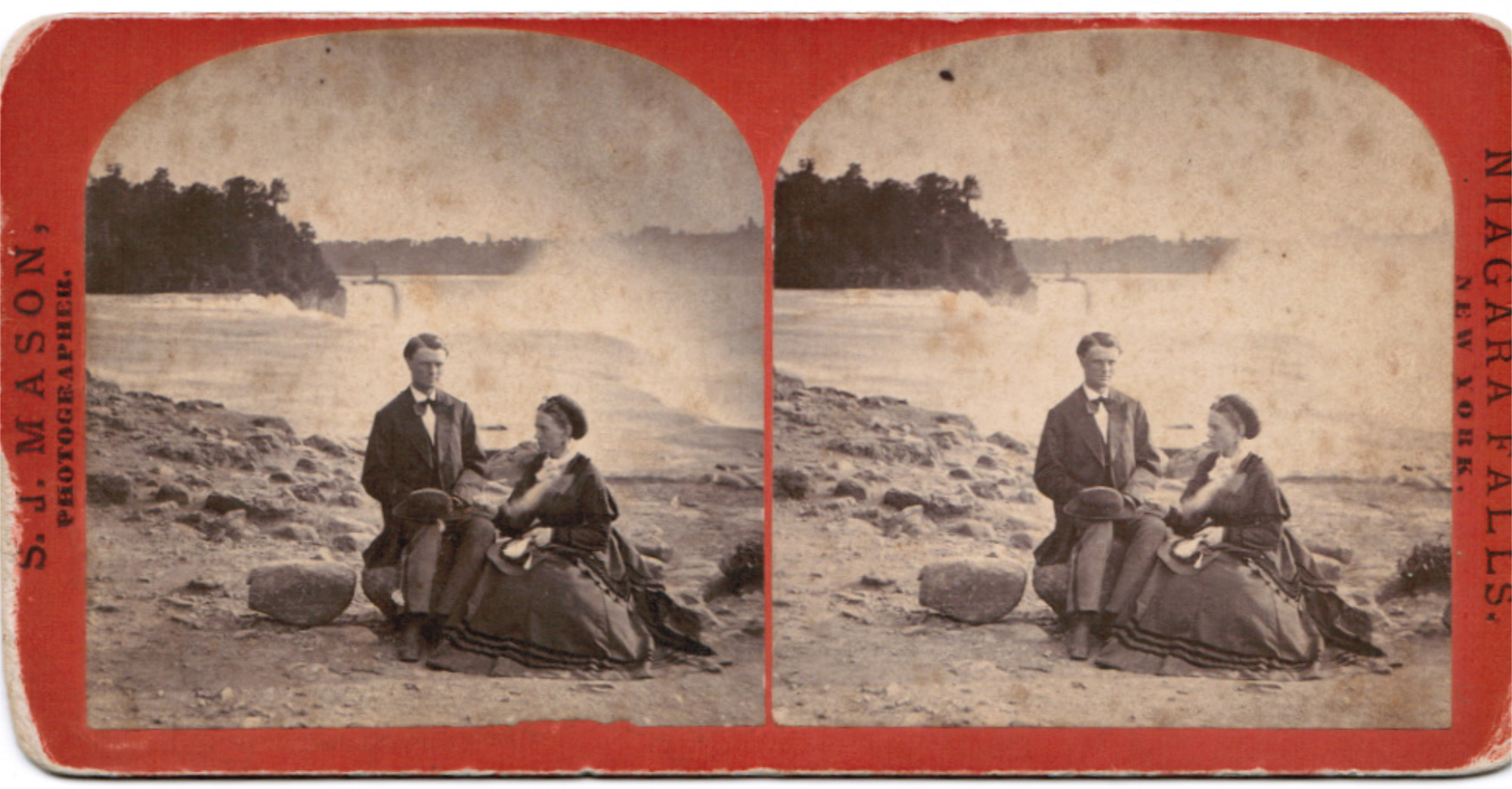 A stereoscopic image of Adgate and Minnie Loomis on their 1871 honeymoon at Niagara Falls. Photo from Haas family collection (used with permission)
---
---
My grandfather also saw the tragedy of war, serving in a machine gunners' unit in World War I. He also saw pestilence—helping to manage an impromptu hospital during the Spanish Flu epidemic. His twin, Ruth, died as a young woman. But, as these horrible things were going on, wonderful things were happening too. Nellie Brown, my grandmother, was among the very few women in the University of Missouri's Rocky Mountain field camp. And Grandpa went on to earn a Master's degree in agricultural economics and then a divinity degree. As an extension agent, he was effective in helping bring an end to swine cholera. He married Nellie and they had four children, including twins of their own, Carolyn and Marilyn (my mother), who were born in 1931. And my grandparents were married for more than fifty years. Grandpa managed a dairy co-op and preached in several churches, and returned to Agricultural Extension work for the University of Missouri in 1936. And Grandma taught physical geography and more.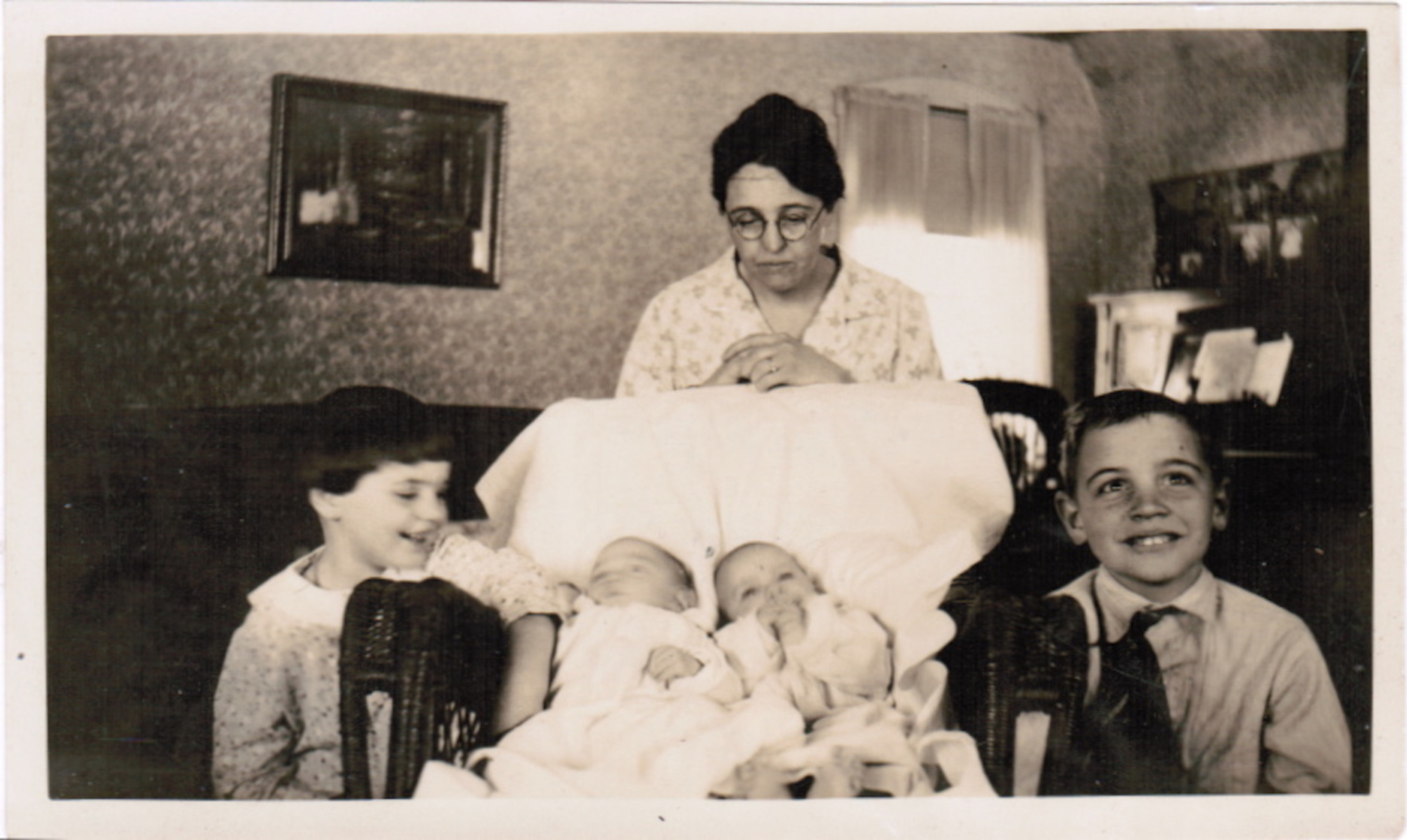 In the parsonage of the Dublin Community Church, Dublin, Ohio, where Ralph Loomis was the minister. Nellie Loomis looks over her twins, Marilyn and Carolyn with their brother Ralph, then eight years old, and sister, Mildred, then five. Mildred,who had been hearing a lot about a big surprise coming to them, took one look at the baby girls and said, "I thought they were going to be kittens." Photo from Haas family collection (used with permission).
---
And Hitler rose to power in Europe, and the Japanese bombed Pearl Harbor, bringing the US into World War II. And my grandfather was fired from the Extension as, "The Extension didn't need any pacifists." A few years later, my father, Roger Haas, enlisted in the Navy, though, fortunately, the war was in its final year. These were horrible times. But the war ended, though my dad served until just before the Korean War began. My folks met at the University of Missouri, Dad attending on the GI Bill.
---
---
And Jim Crow was still festering in the south, and Joe McCarthy was feeding the Red Scare. And Rock-and-Roll was coming up, and life expectancy was growing. And the skies were black with smoke and smog and rivers caught fire. And my parents married and had six kids, beginning with my brother in 1952 and ending with me in 1963, just a few months before President Kennedy was killed. And Dad worked on technologies to see people through the forests of Southeast Asia, and my brothers worried about (but were not called for) the draft. And Mom was a university librarian who wrote books about books. And Martin Luther King, Jr. and Bobby Kennedy were killed. And riots. And there was Woodstock and the Civil Rights Act, and the Environmental Protection Agency. They were wonderful horrible times. And Mom and Dad were married for more than 50 years.
---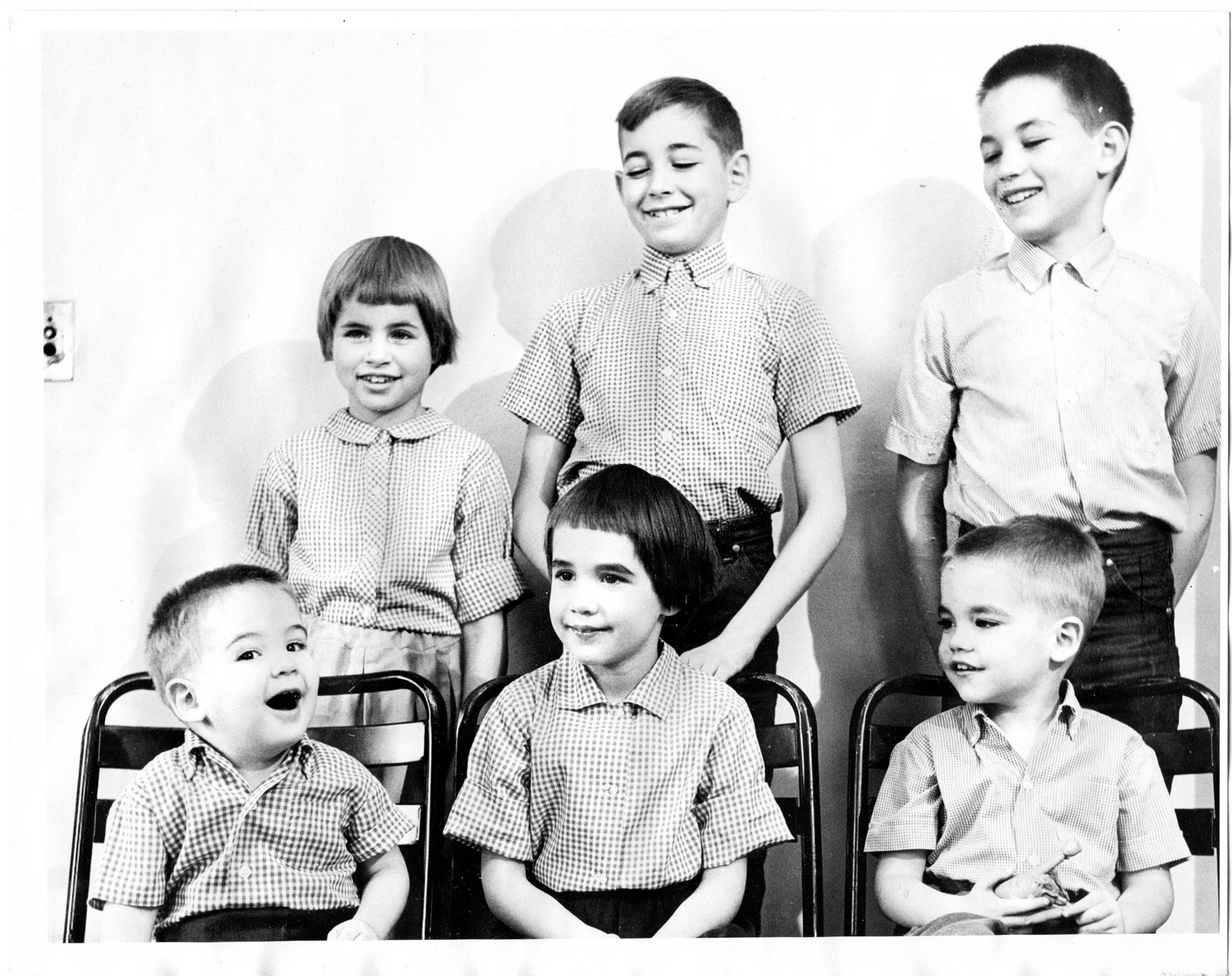 The children of Roger and Marilyn Haas, about 1968. The author is the cute one. Photo by Roger Haas, used with permission.
---
And Richard Nixon and Kent State. And Free Love. And disco. And the lakes and rivers got cleaner and the bald eagle came back. And, eventually, I married Katy Duggan and we had two wonderful kids, Kiana born in 2001, just a few months before September 11, and Nellie in 2004 as the country grew more and more mired in America's longest war.
---
---
All along, we worried about the fate of our children in these turbulent times, whatever time it happened to be. All along, horrible things were happening that looked like the end of the world. And each time it looked like the end of the world we did things to make it not be the end of the world. And, okay, it never really looked like the end of the world, though it may have looked like the end of civilization.
Yes, horrible things are happening now—I first wrote this in 2016, in the aftermath of a series of horrible shootings, and it looked to be an unending series of horrible shootings. But violent crime is actually at its lowest level in decades, which is pretty wonderful. And, 2016 was the hottest year on record, which brought unprecedented droughts and floods and fires to various parts of North America, which is pretty horrible.
As I update this text in June of 2023, the preceding eight years were the hottest on record. And I look out my window in Buffalo, New York to see skies filled with the smoke of Canadian wildfires for the second period of several days in the month.
---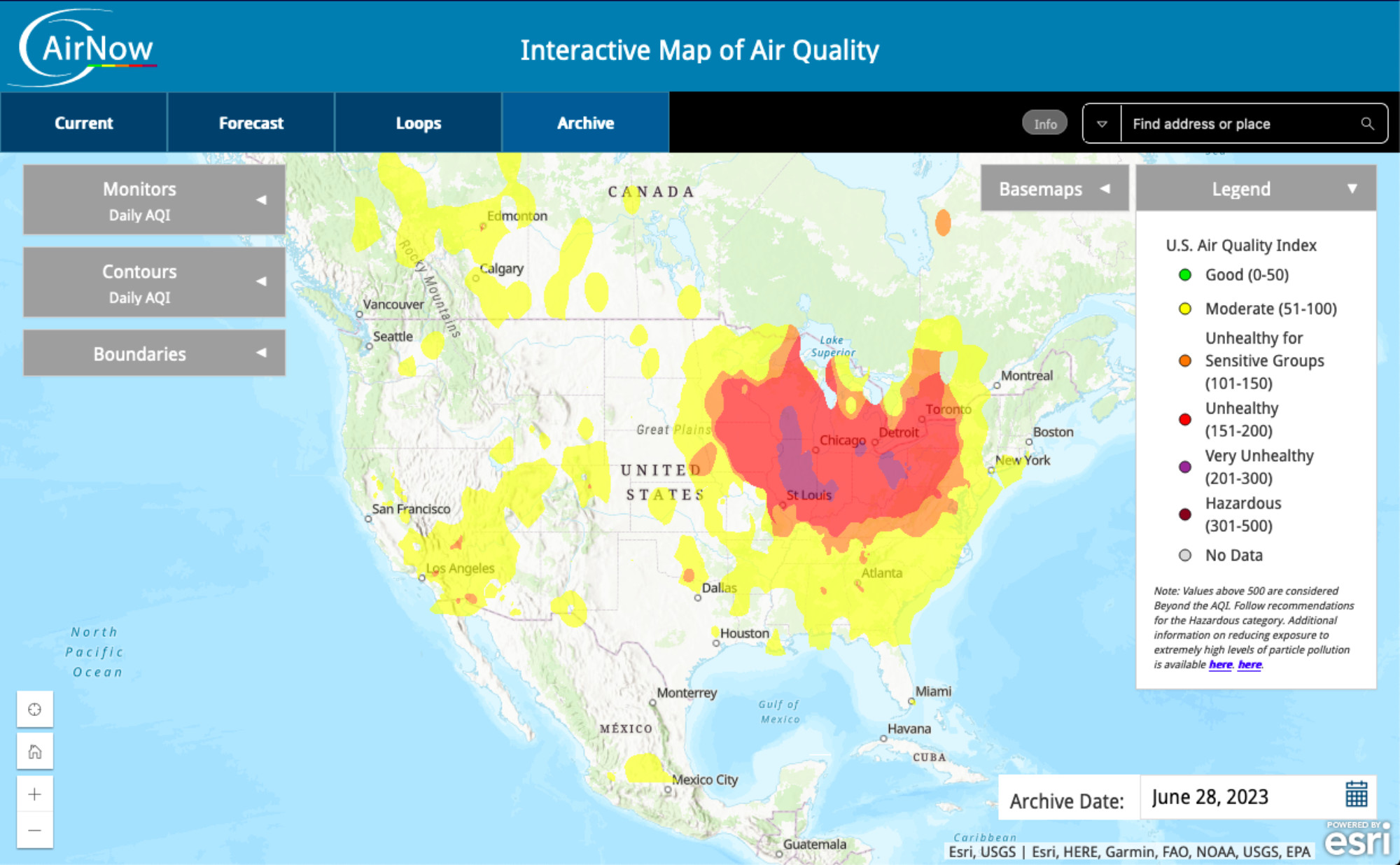 Canadian wildfires caused poor air quality throughout much of the United States in June of 2023. This image shows June 28, 2023. See the current Air Quality Index at
airnow.gov
. Source:
AirNow Archive
.
---
And, while I'm now divorced, my daughters are still kind, hardworking, smart, happy, engaged in things that make the world a better place, and beautiful. And hopefully, your kids are too, and so are you.
---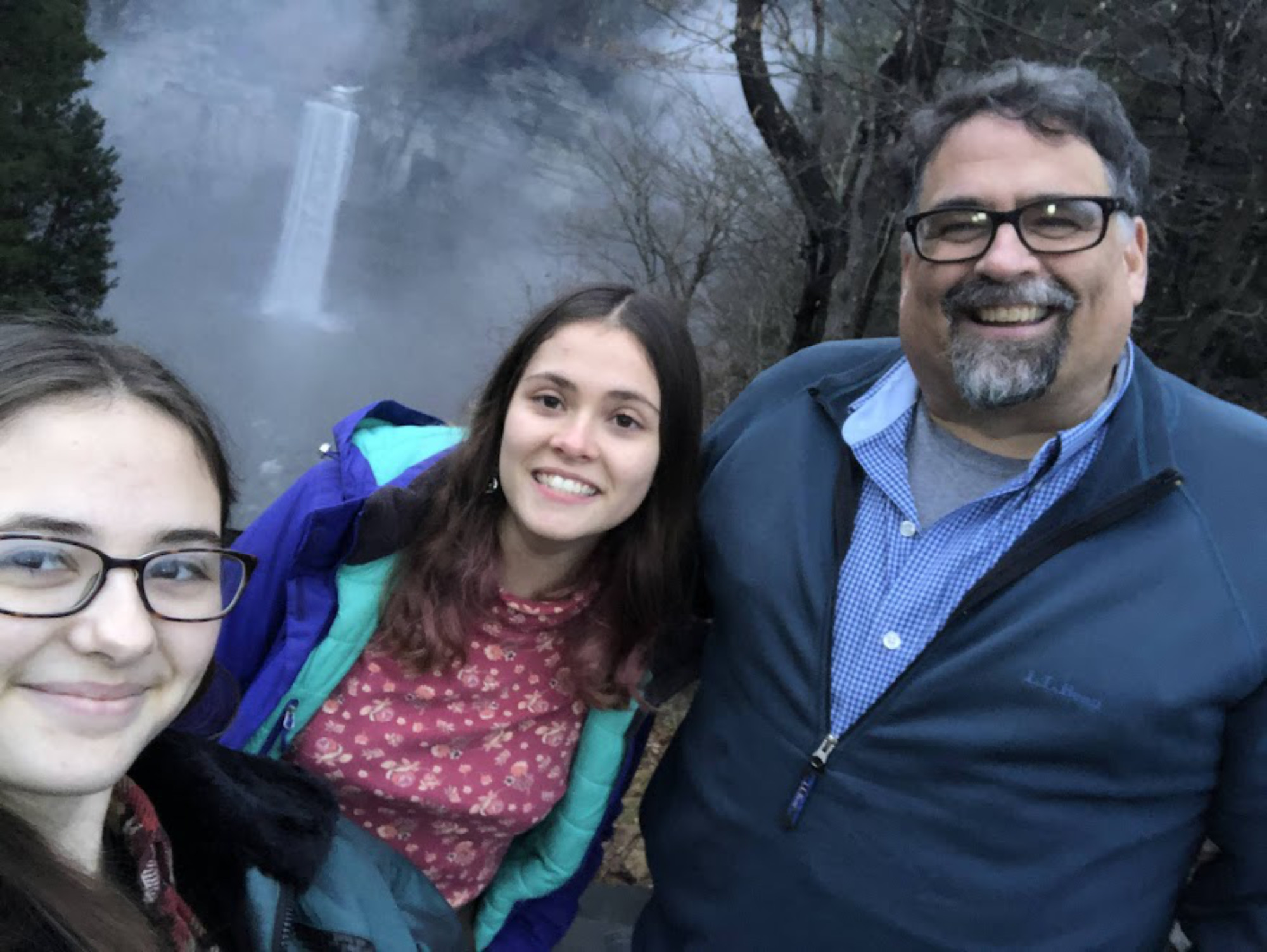 The author and his daughters at Taughannock Falls, outside of Ithaca, New York in December of 2021. Photo by Nellie Duggan-Haas.
---
There are horrible things in the world. When the horror becomes clear to enough people, we do something about it to make it less horrible. Let's do that now. And celebrate the wonderful things too.